When It Comes to Advancements, We Know No Limits
You will soon be asking, "Is this for real!" At Infinity Towers, we welcome you to meet the new horizon of advancements!
One of the best things about this project is that it offers about 1500 m2 of the corporate developed area of office space which is designed in a clean and unique manner.
Along with the elegant design, the office space is built without any interior columns, sizing up to 32 meters by 38 meters. Some facilities here and there add to the innovative layout of the project.
The magnificent Infinity Tower will facilitate you with its 16 elevators that move at an amazingly high speed, surpassing the number of elevators currently in any tower of Egypt.
According to the layout, Infinity Tower is a column-free project. This tower doesn't have any pillars, which add to its top-notch quality. Also, the floor plate of the Tower has an area of 1500 m2, with 200 meters its actual height, extending up to 40 storeys.
To Facilitate You, We Go to Infinity and Beyond
After the period of excavation, two concrete cores were laid out by the Salama Structural Engineers, which utilized Grade 690 MPA for steel and Grade 110 MPA for concrete. After that, the structure goes up to about 47 meters.
Along with this height, there are no slabs or horizontal supporting objects with the purpose of starting the first, second, and third general levels at levels (+30.00), (34.50), and (39.00) accordingly. With respect to Dr. Salama's statement, a commercial area will be constructed that will be a boutique mall, just like the boutique mall at Emirates Tower.
Dr. Salama also revealed that the final structure of the Infinity Tower project would be completed before the middle of the year 2024. The total height of the structure will be 200 meters, making it the highest office building in Africa and the second tallest in Egypt, after the Iconic Tower, which is 370 meters high. The Infinity Tower will consist of only office spaces and a small boutique mall at the ending stage.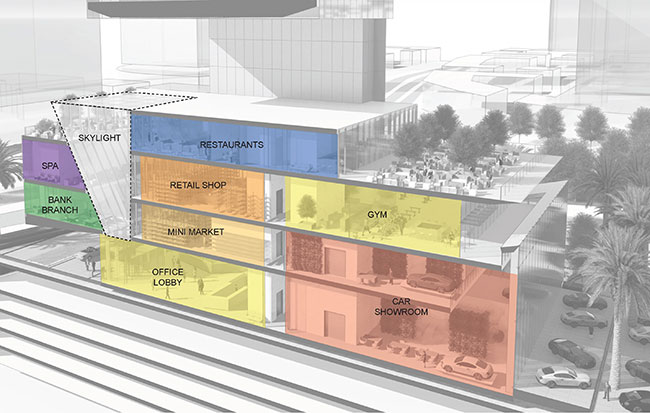 We Are an Icon of Innovation
The Egyptian government is in line with the Infinity Tower to enhance the country's infrastructure. Not only this, it is a distinctive, state-of-the-art design that will give a new perspective to the country.
Infinity Tower provides multitudes of facilities ranging from a car showroom to a spa, a bank, convenience stores, department stores, even a nursery, a pharmacy, restaurants, cafes. You name it, and we have it at Infinity towers!
This will transform the local construction market into a modern construction technology. Meet a new era of design, which has quite expertly combined art with science.
Wait and see! The example of living art!
Just like the Burj Khalifa transformed the UAE construction industry completely, Infinity Towers will transform the Egyptian and African local construction industry.
This is a forty storey building which includes offices and shops. It is built on a 1,560 square meter floor plate. The floor plan is open and column-less. The height of the floor ceiling is 4.5 meters slab to slab.
We didn't stop here! Our passion for serving you leads us to provide everything unique and elegant. We have provided 800 parking slots in fine levels of underground parking. There are a total of fourteen modern and high speed elevators along with two emergency elevators for fire.
Through this project, we have brought the proficiency of superior consultants experienced in the construction of tall towers in Egypt.
Infinity Towers will become the new emblem of zestful Egypt!