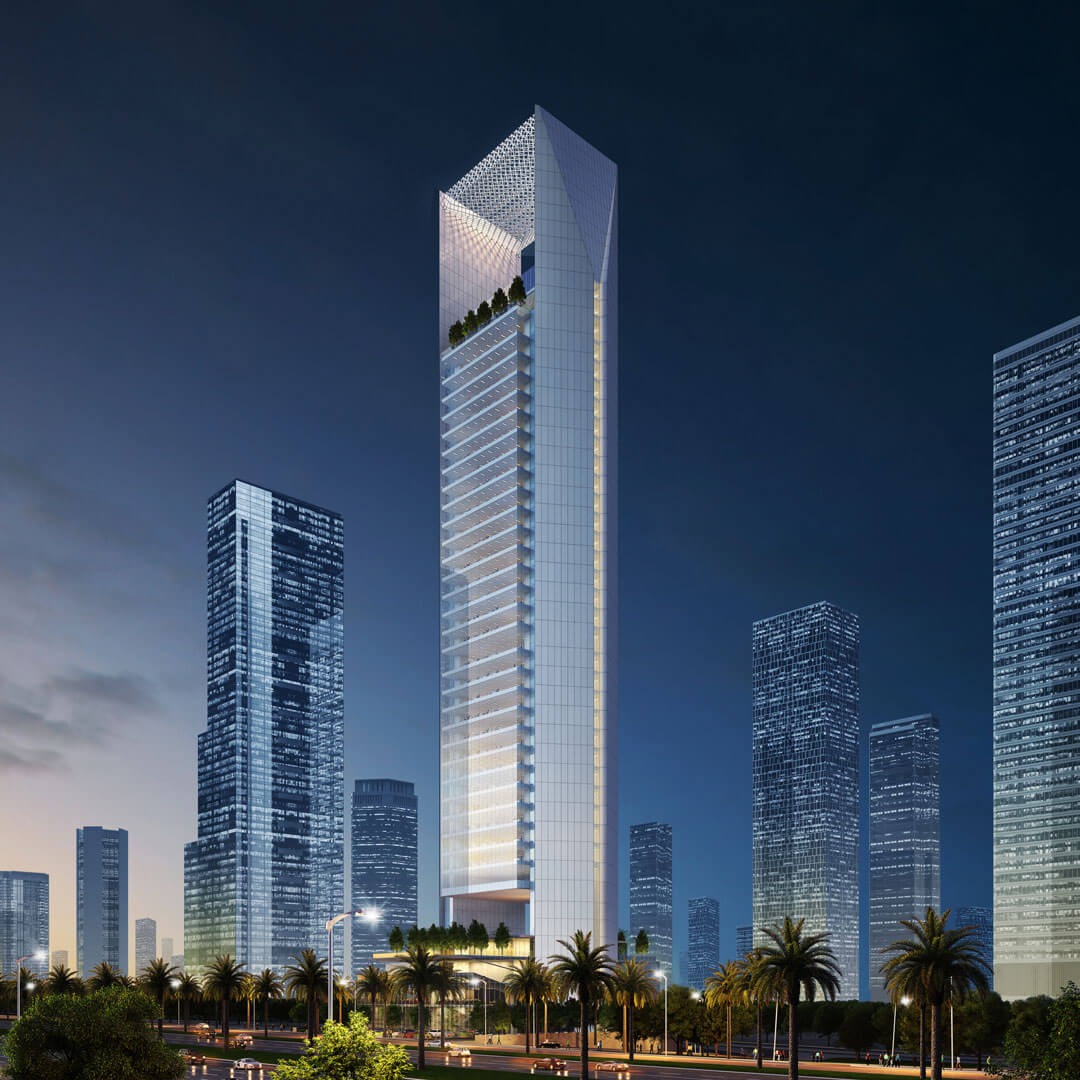 Infinity Tower
A NEW HEIGHT OF CAPABILITIES
Infinity Towers for Urban Development is proud to introduce a revolutionary addition to Egypt's New Administrative Capital - Infinity Tower. This latest world-class engineering technology is strategically located in the Central Business District, offering unparalleled views of the Iconic Tower.
At Infinity Tower, we believe in integrating both art and science to create unique, sustainable, economic, and functional solutions. Our team of experts is dedicated to interpreting innovative ideas and bringing them to life – all while maintaining a strong focus on functionality and sustainability. Whether you are a business professional looking for a new headquarters, an investor seeking a lucrative opportunity, or a resident searching for luxury living, Infinity Tower has something for everyone. With state-of-the-art amenities, top-of-the-line technology, and a prime location, Infinity Tower is the perfect choice for those looking to invest in the future of Egypt's Capital City.
Infinity Tower
Project Completion
Backed by years of experience in the design and construction of high-rise buildings, Infinity tower is ahead of its construction schedule.
Infinity Tower
About Infinity Tower
Infinity Tower is a pinnacle of innovation in the construction industry, utilizing cutting-edge technology and breathtaking designs to reinvent the workplace. Its meticulous nature sets it apart, boasting platinum LEED certification and meeting impeccable Class-A office building standards.
Infinity Tower stands tall at a staggering height of 200 meters, making it a truly awe-inspiring structure. Boasting over a hundred column-free office spaces, ranging from 118 to 1,560 square meters, Infinity Tower offers businesses of all sizes ample space for their operations. Additionally, the tower features twenty commercial spaces designed to cater to the needs of various industries. Infinity Tower's design ensures that businesses have seamless connectivity throughout the premises, with sixteen elevators and five subterranean levels of parking space accommodating up to 800 cars. This ample parking space provides convenience to tenants and their clients, making it easy and stress-free to move around the premises.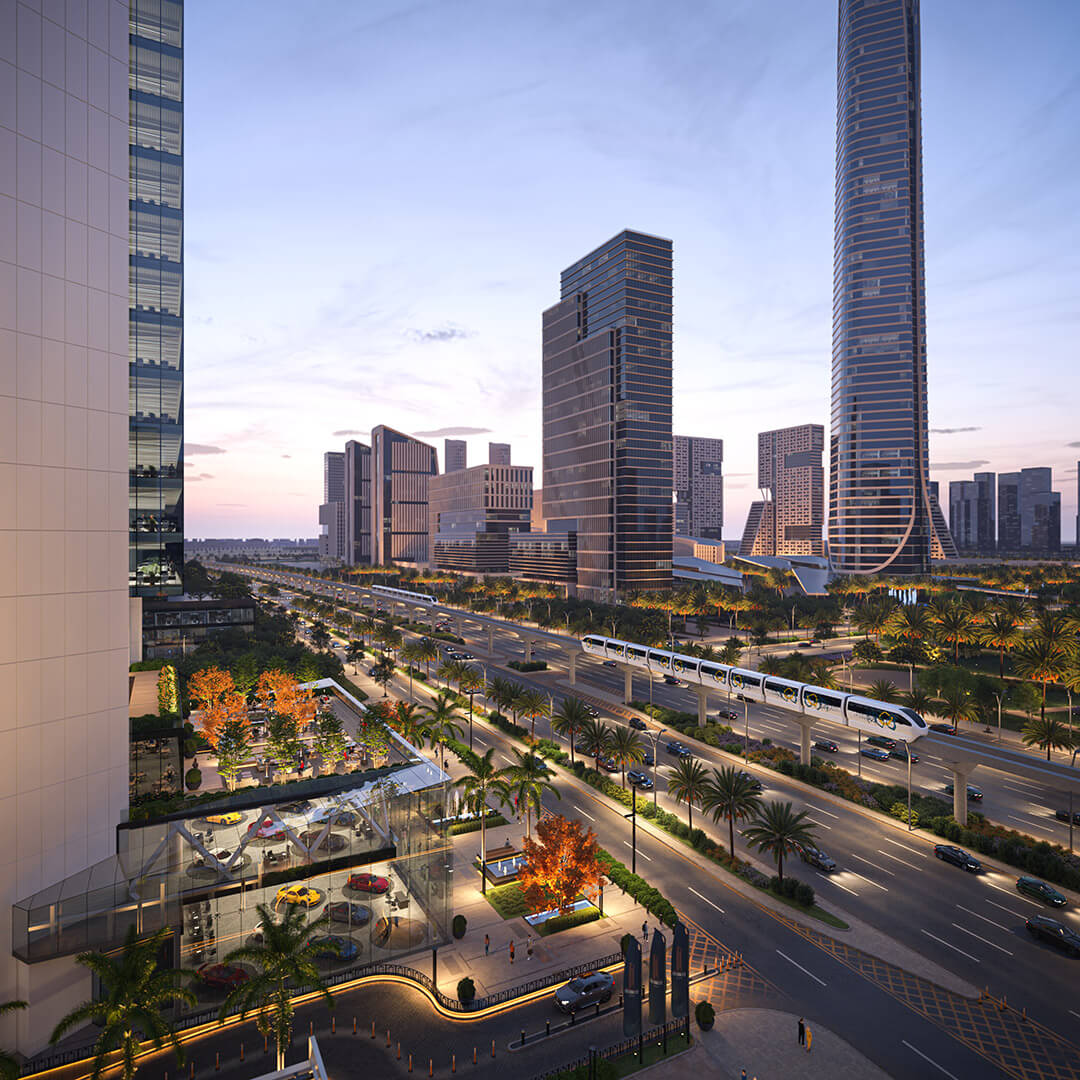 Infinity Tower ensures its tenants enjoy a seamless and luxurious experience while being at the forefront of exceptional amenities and services, including high-speed elevators, 24/7 security, and a feature-packed reception area.
Infinity Tower's pledge to sustainability is beyond reproach, committed to being a platinum LEED-certified project in Egypt, demonstrating outstanding green credentials. With Infinity Tower, tenants can relish a bespoke and seamless experience while contributing to an eco-conscious future for all.
PIONEERING . SMART . SUSTAINABLE
PROJECT FEATURES
The Central Business District (CBD) is designed to reflect the urban and real estate development in the country. It is located in the heart of The New Administrative Capital between the northern and southern axes of Mohamed Ben-Zayed.
 
Infinity Tower is strategically located in in the heart of the Central Business District, surrounded by all the major areas, projects, destinations and developments in the New Administrative Capital, and is only 300 metres away from the Iconic Tower.