Project Facts
We Hold Pride in Being the Most Distinctive in the World
Infinity Tower is an amazing project, which prides itself in being the most distinctive project in the world. Here is how Infinity Tower is going to amaze the world:
40 Years of construction experience in Egypt, Dubai, Riyadh, Jeddah and Doha
INFINITY TOWER
When It Comes to Advancements, We Know No Limits
At Infinity Towers, we welcome you to meet the new horizon of advancements. Once this Tower is finished, it will no doubt be one of the best designs in Cairo.
DEVELOPER
Infinity Towers for Urban Developments
The national leading real estate developer in its field of expertise of high rise buildings in Egypt. Infinity Tower is a result of 40 years of combined construction experience in leading the construction of 125 skyscrapers in the gulf region.
DEVELOPER
Chairman's Message
Spending the past eighteen years of my life in Dubai has given me quite a lot of experience. Each product showcases creative and intricate design styles using the best construction tools. I have played an active part in designing over 100 towers in Dubai. Not only that, I have designed 10 in Kingdom of Saudi Arabia, along with 20 more in Doha. Thus, with a total of 130 towers all designed spectacularly and accurate to the tiniest detail, Infinity Tower constructed for urban development will be my 131st project. So with my experience of 130 towers, I can make this like no other before, merging all my past experience to create a masterpiece.
I ensured that the best criteria for design has been used. Everything is in order, and all the methodologies are in place to construct a class A business tower. What's more, you can view The New Cairo, along with the airport and even the best parts of Cairo, all from the lowest end corner of the Infinity Tower. Even a breathtaking view of the Iconic Tower can be seen, which lies just 300 meters away from the Infinity Towers.
The Managing Director of the Salama Structural Engineers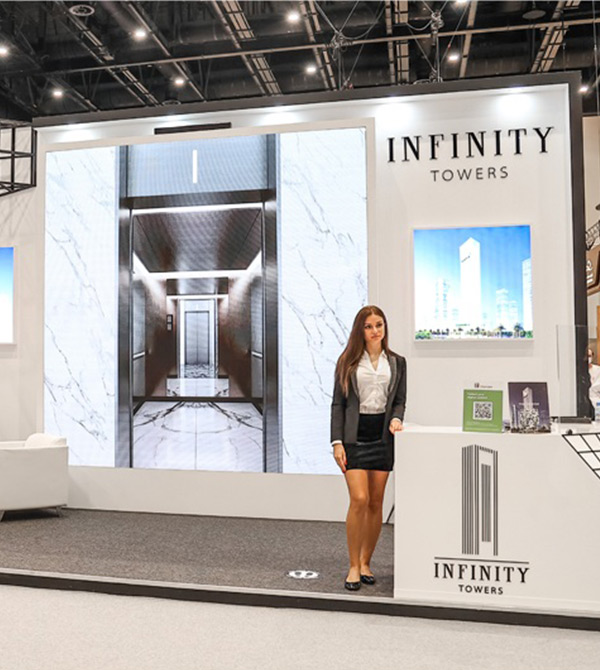 CITY SCAPE 2021
Infinity Towers Showcased at Cityscape Dubai
The tallest office building in Africa, Infinity Towers project was showcased at City Scape event in Dubai on November 9-10, 2021.
Our team at Salama Structural Engineers has always looked forward to opportunities with high ROI. Hence, the managing director, Dr. Asaad Salama, and other team members have ensured the presence of our representative in Cityspace Dubai.
The representative introduced the investors to the innovative features and world-class technology used in the project's construction. We showcased the unique facilities that the residents of Egypt will enjoy after completing the project. Investors worldwide came to know how progressive and innovative construction strategies have made this project very economical. :